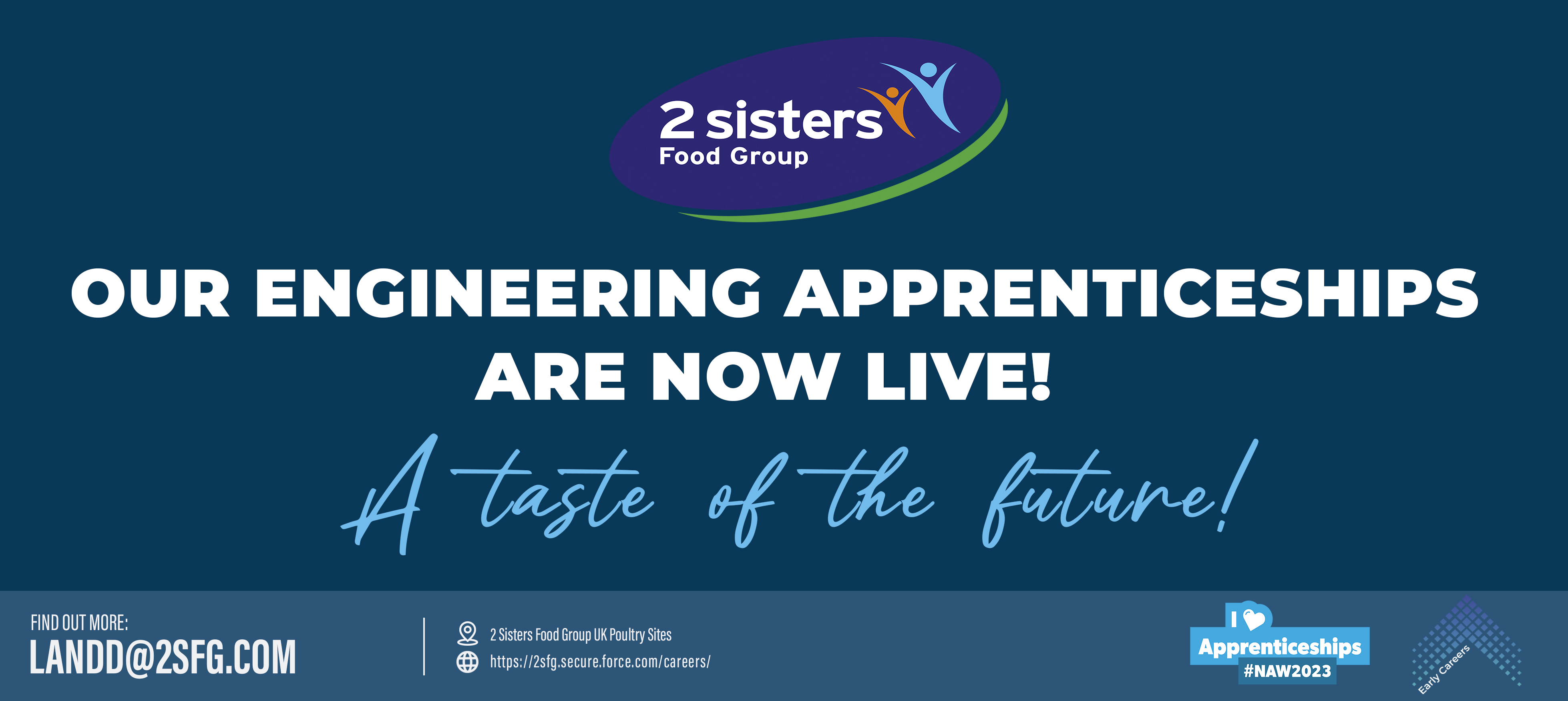 Our Apprenticeship Scheme

Our Engineering Apprenticeship scheme is an exciting way to kickstart your career. We give you the opportunity to gain the skills required to join our fast-paced teams. We focus on your skills and passion, not just your academic education.
Across our Poultry sites our Engineering Apprentices will be based in our Engineering functions, where we have created several engineering programmes, from level 2 to level 4. As an Engineering Apprentice you will work with us to solve problems, bring fresh perspectives and work in collaborative teams to strengthen engineering activities and resources.
As well as being training in the required discipline and studying your apprenticeship qualification, you will be paid a great rate of pay, that will increase you gain more experience.
Our apprenticeship programmes will give you the foundations to start your career. We are looking for hands-on individuals, those who like to practically apply their knowledge, those that work in teams and collaborate, that have a positive approach to problem solving.
Dependant on which scheme you join – you will study with a training provider to gain your qualification, while gaining practical experience on-site in our factories.
Our Apprenticeship Scheme offers you:

Your role
As well as getting lots of responsibility in your day-to-day role, we'll help you explore the whole of Poultry, from visiting manufacturing sites and working with others. You will develop the skills you need to fulfil your ambitions in this exciting sector.

A well recognised qualification
You will undertake a well recognised Apprenticeship which could range from a Level 2, 3 or 4 dependent on your previous education and experience, whilst gaining useful experience with both on and off the job training.
.

Development
During your time on the scheme you will be able to complete our BUILD Team Leader development programme in Year 3.

Salary
Competitive starting salary ranging from £15,371-£22,880 per annum (dependant on site)

Support
You will be assigned a Line Manager and a mentor and be supported by our learning and development team.

Benefits
You'll have access to a great range of employee benefits comprising of 33 days annual leave which includes bank holidays, flexible benefits which you can opt into which include a Cycle Scheme and Hapi benefits where you can access lots of discounts from leading retailers.
On successful completion you'll have three/four years' experience with the opportunity to move into a permanent role on a competitive salary within 2sfg.
Eligibility criteria
Our apprenticeship programme is open to anyone over the age of 16. To be eligible to apply, you will need to have 5 GCSE's at Grades A-C (9-4). You may have just left school, or college, or may be coming to us much later on in life, looking to build new skills or find a way into work.
Our Recruitment Process
First Stage: If you're shortlisted for the Apprenticeship Programme we'll contact you to undertake a short pre-telephone screening interview.
Second Stage: If you're successful from the pre-telephone screening interview we'll invite you to undertake an online assessment(s).
Third Stage: Upon reviewing the results of your online assessment, we invite the highest scoring candidates to our assessment centres.
Applications for our Apprenticeship Programme open in February, assessments are in April/May and you'll start in September.
Click here to search and apply for our Apprenticeship vacancies
Meet our Apprentices
Meal Solutions Apprentices